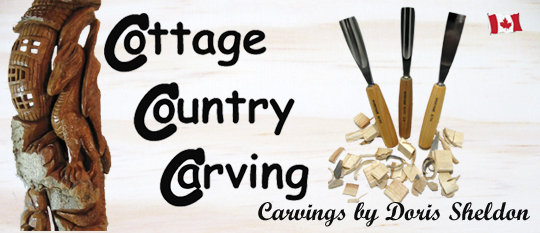 Carving Tutorial - Part 5
Model #6 - Photo
Hanging the Carving:
Carve out a hollow in the back of the carving. Choose the area of greatest amount of wood such as the forehead. Make the hollow deep enough that the screw eyes do not extend above the top of the hollow. Put the wood finish on prior to placing the screw eyes inside the hollow. Attach picture hanging wire to the screw eyes.
Finishing the Carving:
Begin by cleaning the carving well; brush it vigorously with a stiff bristle floor brush and vacuum it carefully. A little bit of clear nail polish adds a shine when applied to the area that would be the white of the eye and looks moist as eyes do. When the carving is clean I apply one coat of sanding sealer to the back and allow this to dry for 1/2 hour. Stir the sealer well and apply it with a small brush. Let dry for 1/2 hour. Turn the carving over and apply one coat of sanding sealer to the carved portion of the wood. Allow the sealer to dry for a minimum of 1 hour. Be certain to paint every little nook and cranny. I prefer to apply sealer to the carved areas only because I like the contrast between the finished wood and the rough wood. Sealer will darken the rough wood if applied to the entire piece. I use a small artist brush to paint sealer to the areas next to the rough wood. I find that the sanding sealer strengthens the wood more than a coat of varnish would. When the sanding sealer is dry I apply one coat of Neutral Shoe cream. Allow 3 to 4 hours for the cream to dry and then buff well with a soft bristle brush. I use a good quality shoe brush. The shoe cream softens the look of the sanding sealer finish and gives it a nice 'touch me' look.
Continue to Part 6: List of References