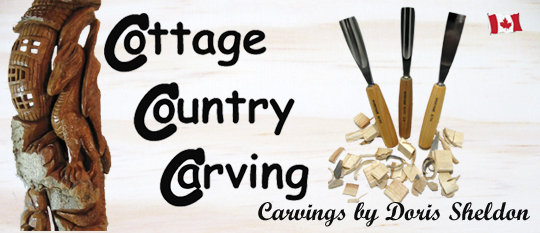 Carving Tutorial Main Page
Wood Spirits in Cottonwood Bark
This tutorial is for end use by hobbyists and craftspeople only. Hobbyists and craftspeople are free to create and sell their own carvings based on this tutorial. However, the information in the tutorial may not be, in part or in whole, distributed, redistributed, published, republished, copied, reproduced, altered or modified and sold or otherwise made available to others in any form (i.e. craft kits, magazines, course notes).
I taught my first carving class for "Wood Spirits in Cottonwood Bark" at the 2009 Regina Woodworking Show. Here are some photos of the class from the Regina Leader-Post's coverage of the Woodworking Show. Leader-Post Photo gallery: Wood carving
I look forward to teaching another carving class in the future. Please watch the News section on the main page of the Cottage Country Carving web site for information on any future classes. Please contact me if your woodworking group or club would like to organize a class. Enjoy! - Doris Sheldon.
Part 1 - Suggested Guidelines for Head Proportions
Part 2 - Carving Faces in Cottonwood Bark
Part 3 - Carving the Nose, Forehead, Mustache, Mouth and Beard
Part 4 - Carving the Eyes and Eyebrows
Part 5 - Hanging and Finishing the Carving
Part 6 - References