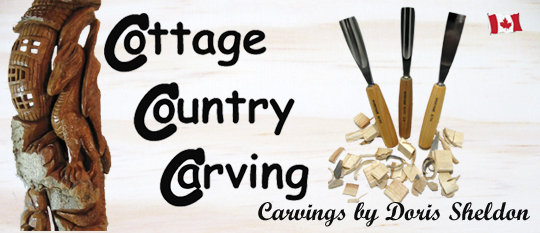 Wood Carving Gallery
Click on each thumbnail to view larger photos and more information on each carving. Details include close-up photos and photos from multiple angles.
Each carved item is finished with coatings to suit the wood type. Finishes are available in either indoor or outdoor finishing coats. Some carved items are free standing, while others are to be hung on walls or fences.
Many of the gallery items can be reproduced, although no two pieces are the same. Carvings can be reproduced in a variety of wood types, finshes, and shapes (free standing or wall hanging). Please contact Doris Sheldon to discuss orders of gallery items or for commissioning of custom pieces.
Bark Wood Carvings
Bark carvings are available with an indoor finish and are not recommended for outdoor use.
All bark carvings in the gallery are wall hangings.
Poplar Wood Carvings
Birch Wood Carvings
Basswood Wood Carvings
Laurel Leaf Willow Wood Carvings
Maple Wood Carvings
Trunk and Stump Wood Carvings
Staff (Walking Stick) Wood Carvings
Carved Turnings Wood Carvings